Teradek Decoders
Met de VidiU biedt Teradek een betaalbare en professionele oplossing voor het live streamen van video vanaf iedere locatie. Of dit nu via een vaste internetverbinding gaat, via wifi, via een telefoon of een USB 4G dongle overal is de VidiU te gebruiken.


Bezig met laden...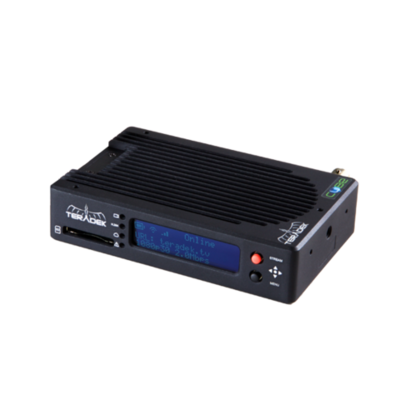 Teradek Cube 600 Decoders
De Teredek Cube decoder kan via een locaal netwerk of internet gekoppeld worden aan een Teradek Cube encoder en zo rechtstreeks het videosignaal van de gekoppelde encoder weergeven via de HDMI of SDI uitgang.
Point to Point via internet:

Uitgang: HDMI / SDI
maximaal 1080 p30 met ingebouwde scaler.
Video Outputs

HDMI 1.4a: Full Size
SD/HD/3G-SDI (75 Ω BNC)

Supported Resolutions

1080p 23.98/24/25/29.97/30/50/59.94/60*
1080i 50/59.94/60
1080PsF 23/24/25/29/30
720p 50/59.94/60
576i
480i
480p (for HDMI output only)
576p (for HDMI output only)

Video Compression

Decompresses H.264, Baseline, Main and High Profile

Supported Video Bitrate

250 Kbps to 15 Mbps*
*15 Mbps (wired), 10 Mbps (WiFi)

Test Pattern Generator Support
Video Format Conversion Support

Built in Video Scaler and Deinterlacer

Color Correction
Network Protocols
TCP/IP, UDP, HTTP, DHCP, NTP, SSL, IGMP
Supported Video Transport Protocols

RTP/RTSP: Unicast/TCP, Unicast/UDP, Multicast/UDP streams
MPEG Transport Stream: Unicast/TCP (pushed in from an external source, or pulled down from a remote server such as Core), Unicast/UDP, Multicast/UDP
Teradek Streaming : Unicast/UDP, Multicast/UDP

Remote Control
Audio Compression
Audio Input

Embedded Audio Input
Analog Line or Mic in, adjustable gain

Audio Output

Headphone output, adjustable volume

Dimensions

4.75"W x 3"D x 1.1"H [120.7 x 76.2 x 27.9mm]

Weight
Construction
Http

WebUI for Configuration and Control

Configuration Interfaces

OLED Display with joystick Navigation buttons
Feature-rich WebUI for configuration and control

Switches
Mobile App
Usb Interface Functionality

Powered USB 2.0 host port

Ethernet
Wireless
WiFi: 2.4/5GHz 802.11 a/b/g/n MiMo (Cube 675)
Usb
Rf Channel Selection

Auto with 3 modes: (2.4 or 5 Ghz), Auto (2.4 GHz only), Auto (5 Ghz only)
Configurable to specific channels

Encryption

802.1x, 802,11i, WPA2, WPA and WEP 64/128 TKIP 128bit AES

Power Input

2 Pin Connector Power input

Battery
No Battery Included
Nominal Power Consumption
8W, 7W (no WiFi)
Auxilary Power Input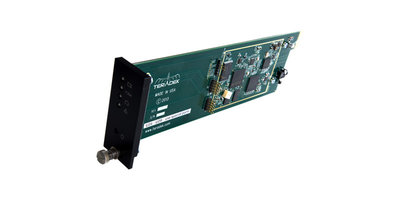 Teradek T-RAX H264 decoder kaart
DeT-RAX decoder kaart is geschikt voor het T-RAX basis system, de specificaties zijn vrijwel gelijk aan de Cube 305, met als extra SDI loopthrough


Video outputs: 2 x HD-SDI, SD-SDI: BNC (loopthrough)
Supported Resolutions
1080i 50/59.94/60 | 1080p 23.98/24/25/30
1080PsF 23.98/24/25 | 720p 50/59.94/60
576i / 480i
Video Codec
H264 decoder
Support voor Teredak Core platform
Support voor Sputnik server